California Yacht Marina's 23 Years of Location Experience
At California Yacht Marina, we make dazzling shots and cinematography possible by coordinating with California Yacht Marina's team. Your next film or commercial demands stunning visuals, and they shouldn't cost a fortune. We have everything you need to tell compelling and visually-arresting stories. Nature gave us the Pacific Ocean, and we help you harness it. We're proud of our 23-year legacy of assisting storytellers in completing their projects by giving them storybook locations. When you work with us, we do everything to make your next shoot a rousing success.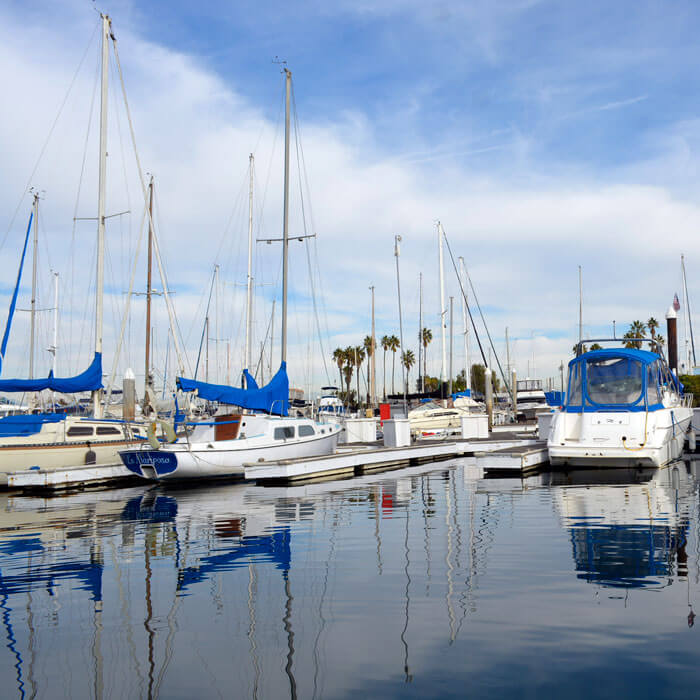 Everything California Yacht Marina Has to Offer
Location is everything when gearing up to shoot a commercial, short, or feature-length film. The images you capture help propel your story forward and engage your audience. We offer a plethora of interior and exterior shooting locations, as well as the backdrop of yachts and boats required for maritime shooting. We know how challenging filming at sea can be. We're here to simplify matters and help you scout locations. We also know we don't do it alone – the stunning California coastline plays a significant role. We offer a wide range of possibilities, including:
Recreational Boating Facilities: We're an excellent location for photographers and filmmakers who need shots of boats, marinas, and everything in between. We keep our equipment and walkways in pristine condition. But more importantly, the boats themselves are the perfect setting for filming on the water.
Boat Slips: We know how expensive filming equipment is. Wide ramps, gangways, and a stable concrete dock system accommodate loading and unloading large and heavy camera and audio equipment. We want to keep you, your cast, and your crew comfortable and happy during filming. We're proud to say we've done so for over 23 years.
Docks: We have plenty of dock space, which means our valued filmmakers and photographers never lack for space to berth or moor all necessary productions boats. Each dock contains more than enough space for a robust film crew.
Beautiful Architecture With Oceanside Views: If you need to shoot indoor scenes, we have you covered. We keep our buildings meticulously clean and pristine. We welcome filmmakers and photographers of all kinds to shoot inside our building. And through our windows, you can see the sparkling waters of the Pacific. Day or night, our filming locations are a boon for beautiful scenery.
Versatility: With multiple filming locations we are able to provide the backdrop that completes your shoot both indoors and out. Wilmington has nostalgia with wood docks and a Cape Cod look, Port Royal is in the heart of a little beach community, and Cabrillo Marina has the backdrop of Angel's Gate, Cabrillo Beach, and the Palos Verdes Peninsula.
Parking: We accommodate up to 300 spaces of blocked-off, on-site parking for basecamp, cast/talent/crew/extras parking, trailers, honeywagons, support trucks, and equipment, etc.
Yacht Clubs: Yacht clubs at each location allow for additional filming opportunities that standalone marinas can't offer.
Lawns: Our San Pedro filming location provides a lush, green lawn with the ocean in the background. Many filmmakers who need to shoot a quiet scene in nature have opted to utilize our grounds. As with everything else, we keep it in excellent shape for your shoot.
Visit One of Our Filming Locations
Coordinate with the California Yacht Marina's team to provide stunning visuals for your next project. Each one of our three marina filming locations offers something different to our partners. Our goal is to foster the arts and commercial filming and help artists and directors produce the best content. To that end, you can enjoy filming in any of our marinas:
Cabrillo Marina: The Port of Los Angeles offers filmmakers and photographers with access to on-site beauty and stunning open-ocean scenery. Cabrillo Marina is central to Angel's Gate, Sunken City, Tide Pools, Container Shipping, USS Iowa, Cabrillo Beach, and the Palos Verdes Peninsula with Catalina Island on the horizon.

Wilmington Marina:

Located in the heart of the Port of Los Angeles, this quaint marina sits in what is referred to as the Wilmington Marina District and features magnificent natural splendor with wood docks, East Coast architecture all the while having accessible parking for your film production needs.
Port Royal Marina: Nestled in King Harbor and close to both infamous Redondo Pier and the "Whaling Wall," Port Royal marina is an excellent alternative to any of our marinas. Backing up to restaurants and hotels, with close proximity to local beaches and open ocean this location can be a great basecamp operation even if you aren't filming at the marina with its unusual amount of available controlled parking.
Schedule a Location Scout
We know words will never be enough to sell you. But we're confident that our marina will blow you away when you visit us. So, schedule an appointment today. California is the world's capital of film and TV, not to mention world-class commercial work. We're proud to be an exemplary part of an enduring American tradition. Most importantly, we're more than capable of handling expansive productions as you get that perfect shot. Finally, we work tirelessly to make sure your experience goes off without a hitch and we do our best to accommodate requests in a timely fashion. Contact us today.
California Yacht Marina is proud of its 23+ year heritage as a filming location, and we will do everything we can to make your production a great success!